Make A Statement And Keep Your Head Safe
You can print your custom graphics on pre-selected areas 
of our H1 and H2 helmets.
There is a 12-piece minimum for custom logo orders.
Please allow 48-72 hours for a custom quote.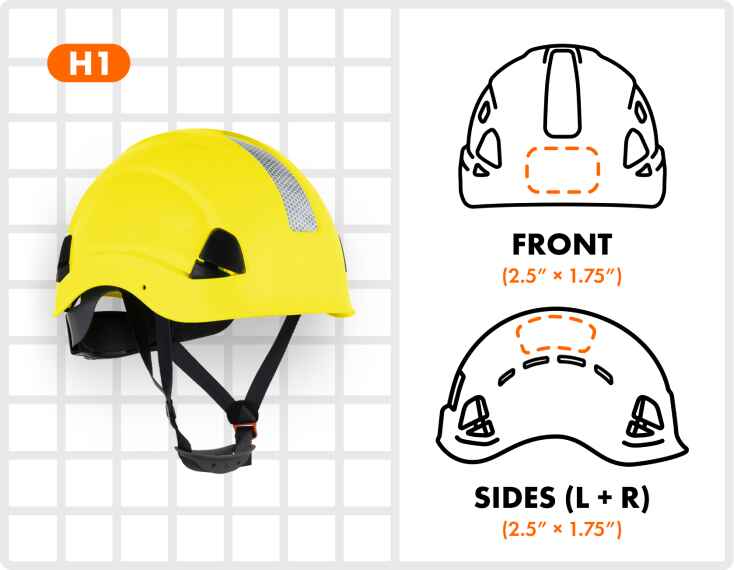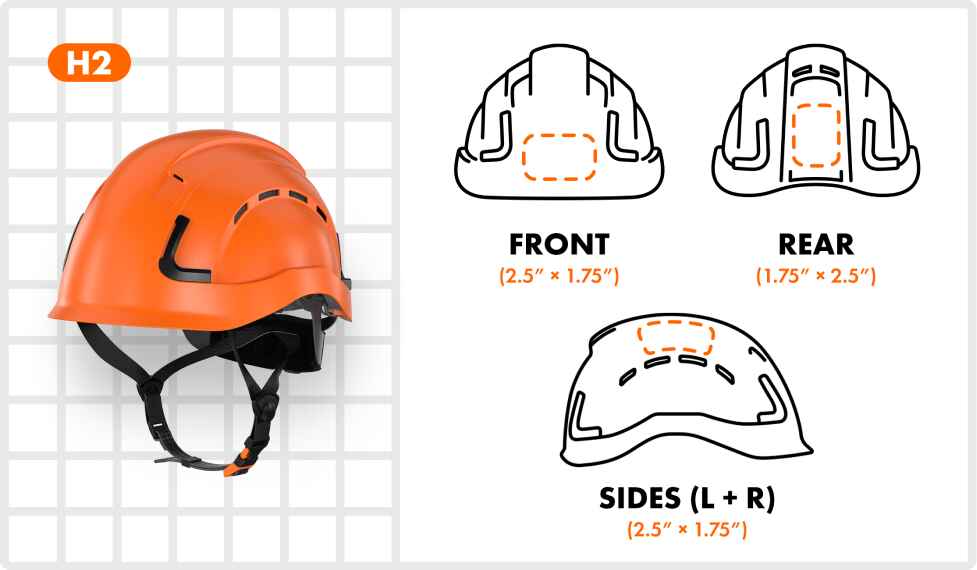 Your logo and messaging is important to your business and Defender Safety wants to help foster your brand identity along with your messaging on our safety products.  By doing so it communicates ownership, team, quality, and instantly brings your company's values and culture to your employees. Let Defender Safety help you with the details!
What is the cost to logo product?

Our pricing is quoted per job by our Customer Support Team.  We will require your artwork and any messaging you would like to put on the products.  Once we have this information our team can quote.  
Are there fees associated with logoing?

Yes, we want to be 100% transparent about the process.  Defender utilizes trusted, local, third party partners who support our logo program.  We have a long standing relationship with each of our vendors therefore they understand the Defender Safety quality standards we employ.  The fees that get passed on are associated with the time it takes to prepare the art for productions.
How long does it take to get my logoed product?

Our logo process for the initial order typically takes two (2) weeks from the time you approve the artwork, send an official PO and the order is paid in full.  Repeat orders typically take less time.
What if I need to have my order faster?

Defender Safety will try to support your request and we will be honest with you on timelines.  If we can't meet your timeline we will let you know up front so there are no surprises.
What do you need for artwork?

We need a high resolution (3000 DPI or greater) in an AI or EPS  file of your logo.
My logo is multicolored can you accommodate?

There are restrictions per product category i.e. Helmets can accept up to 2 colors.  You will get all the details from our Customer Support Team
Once I approve can I get a sample?

Defender Safety cannot supply samples of a finished logoed product. You will receive a digital mock-up of what the finished product will look like along with the details for your approval.
Can I put any message or logo on products?

As part of the Defender Safety's code of conduct we reserve the right to decline any design submission we deem vulgar, offensive, uses profanity or infringe on any intellectual property or third party rights.  
Is there minimum order quantity?

In order to maximize our value there are minimum quantities that are required per product category.  Our Customer Service Team will let you know what those are up front.
Can I make changes once I approve, place and pay for the order?

We know mistakes happen, if you inform us BEFORE we start the production we can make a change (may be subject to fees) BUT it is not possible to make any changes once the product is in production.
Are all orders final and non-cancelable/returnable?

Yes, once we start production all orders are final and are non-cancelable and non-returnable.  If you decide BEFORE we start production to cancel the order there will be a 35% fee associated with the cancelation.  All logoed/custom products are NON-RETURNABLE